Video Gallery
After having walked a distance of around 45 km…some of the Sai Baba Devotees are resting while some of the them are participating in the bhajan session.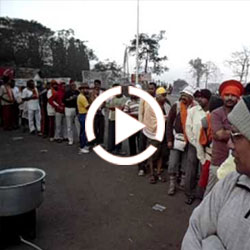 Mumbai to Shirdi Padayatra..Sai Baba devotees lined up to have their breakfast.
Sai Baba's palkhi yatra(Shraddha Padayatrik Mitra Mandal) at a village called Vavi about 40 kms away from Shirdi. Despite having walked around 50 km, all padayatris showed no sign of tiredness and danced for hours accompanying Baba's palkhi through Vavi village.